A Royal Legacy – What Happens to New Zealand and the World?
Queen Elizabeth II, who reigned for 70 years, passed away on September 8th. The 96 year old died peacefully at Balmoral surrounded by family. Memorials have taken place globally, including right here in Wellington alongside a controversial one-off national public holiday in NZ on Monday 26th September. Her death, like her life, will change the world in many ways, some of which we may not have fully anticipated. 
As is protocol in the line of succession, Prince Charles of Wales is now King Charles III. This incites many changes in the UK itself, such as changes in bank notes, God Save the King instead of Queen, and a King's Speech rather than Queen's. But does this mean that everywhere with the Queen on their money will make the same change? Will Aotearoa change its notes, coins, and passports to include the face of another British Monarch?
Not yet. The Department of Internal Affairs and Reserve Bank confirmed that currency will remain legal tender and passports valid. It is likely we will see these adjustments eventually, but there have also been discussions over whether it is necessary, and whether further shifts away from the British Monarchy are in order.
People have commented that it may be too soon to discuss such a future in the wake of such a loss. Others maintain the importance of remembering the historical and present context of her family's legacy that is painful for indigenous, and POC worldwide. Respect for the loss of a beloved woman can coexist with a critical analysis of said context. People mourning for their stolen land, culture, identity, and dignity, should not also be forced to mourn someone who was a symbol of this theft.
The horrific impact of colonisation across the world is one Aotearoa continues to live with. It has been suggested that another British Monarch as the Head of State in our country in the 21st century is an unnecessary reminder. New Zealand is currently one of 15 Commonwealth realms, with the rest of the Commonwealth comprised of republics. Earlier in her term, Jacinda Arden speculated that New Zealand would make this transition from realm to republic in her lifetime. While there has been a lack of urgency to make this change, with the end of an era, the concept appears to be increasingly relevant.
The British theft of land to build its now crumbling Empire is still a lived experience. Despite the fact that the British then left, the fallout is ongoing for countries whose homes were taken, lands plundered, and cultures stripped. While the royal family would prefer a past-in-the-past approach, it is hard to move past such a ravaging event, especially when they display stolen gems as their own (pictured above).
The British Empire's rise and fall is not a unique phenomenon for global hegemonic powers. We have seen it historically, we are dealing with it presently, but what does it look like going forward into a contemporary world? 
The obvious culprit for this behaviour in an even more modern context than Britain's, is the United States of America. While we are still very much dealing with the repercussions of British colonisation, one can also draw parallels in the behaviours of the global superpower, who ironically was 'founded' on deliberately distancing themselves from Britain. The US has its own horrific colonial history, in which Aotearoa may find solidarity. Much like it's predecessor's, doing very little to repair this history, the country has plowed ahead to increase its power and fight for global hegemony. This power, like Britain's staple 'tea', has not been earned or invented, but stolen.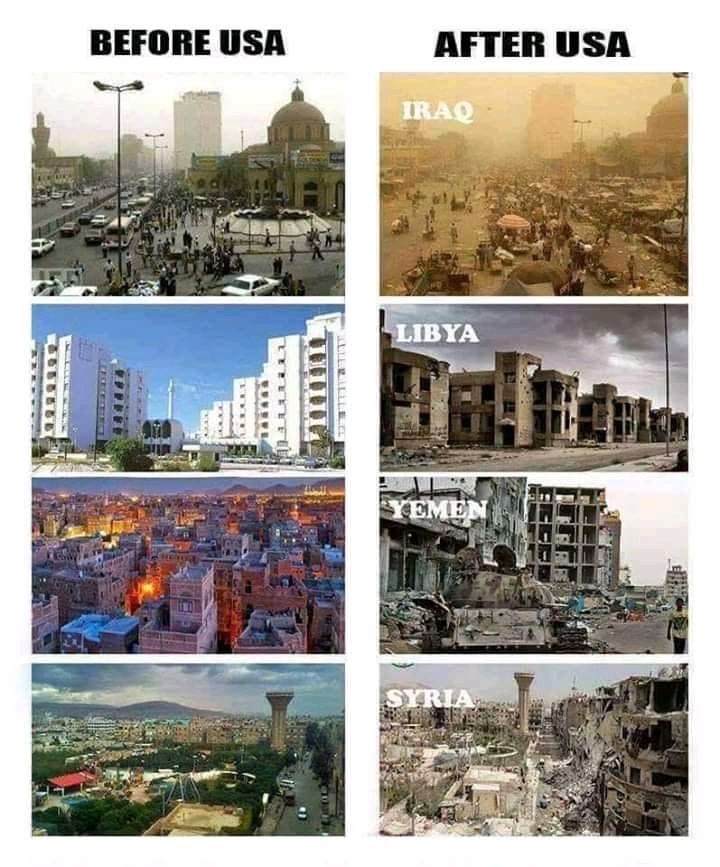 It is clear that the US's style is less expansionist, preferring instead to incite or intervene in international conflict. Coincidentally, many of this countries they have 'helped', or 'protected' us from, have also been rather rich in oil. A complex construction of global military, trade, and economic relationships, along with a vehement chokehold on global media, has also helped to solidify the role of the US as a global superpower. 
As we know, power does not last forever. Seeing the rise of other great powers, such as China, displays the ongoing power struggle in the wake of the fall of the British Empire. While Britain has lost much of its power and the monarchy much of its status, this power is for the taking. Sino-New Zealand relations have grown hugely in the last few decades, and China has now become our largest trading partner. The US perhaps remains closer to NZ ideologically, and strategically, with also a heavy trade relationship. With this power-struggle between China and the US, it is speculated that smaller nations will need to take sides. 
Overall, one can observe sociopolitical patterns repeating. While the US and China are unlikely to wreak the type of colonial destruction that is the legacy of the British monarchy, any one nation having power over the others creates interesting and damaging power structures regardless.
All of this being said, one can still acknowledge the life of a mother, grandmother, and woman, who has been a constant, the world will never be the same.
As with much of the future, one cannot be certain. What is clear is while the world mourns the loss of Britain's longest reigning monarch, the mourning for the indigenous lives taken and destroyed by the institution continues.