In a shocking turn of events local accountant Rab Morton known for his love of numbers and impeccable business acumen has decided to embark on a completely unexpected career change.
Morton who has spent the last decade crunching numbers and balancing ledgers has now set his sights on becoming the frontman of a Sex Pistols tribute band and to make things even more mind-boggling he insists on channeling his inner Johnny Rotten.
Update Wellington were lucky enough to meet the man in the flesh before his "NEVER MIND THE SEX PISTOLS, HERE'S THE BOLLOCKS!" performance at MEOW bar on the 6th July. You too can
experience the authentic look and feel of 1977
this weekend thanks to
Eat Drink Play
, a festival all about bringing the best of Wellington entertainment.
Ditching his traditional pinstripe suits for ripped jeans and safety pins Mortons transformation has left his colleagues and friends astounded. "Honestly I thought it was some elaborate Halloween prank," said Sarah, a coworker who admittedly couldn't keep a straight face when Morton first strutted into the office sporting spiky hair and an unabashed punk attitude. "But he was dead serious," she adds.
Morton who has dubbed his new band 'The Counting Rebels', insists that his decision was inspired by a lifelong love of punk rock and a burning desire to unleash his rebellious side. "Accounting is all about calculated risks and striving for accuracy but I've always felt the need to let my wild side out," Morton confessed while adjusting his studded leather jacket.

While some might question Mortons qualifications to embody the spirit of punk he is embracing the challenge wholeheartedly. He has spent countless hours perfecting his punk sneer in front of the mirror and analyzing Johnny Rotten's iconic stage presence frame by frame. "I've even considered getting a couple of outlandish tattoos," he shared with a sly grin. "But I realized that might hinder my efforts to secure clients during daytime hours," he adds.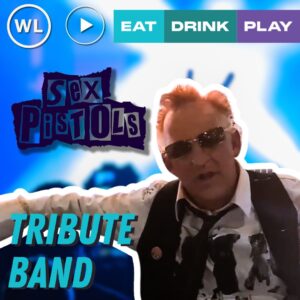 The road to punk stardom however has not been without its challenges for Morton. As an accountant he was used to meticulously organizing his work and following structured routines. Switching gears to manage a rowdy group of musicians each with their own unique quirks has proven to be a wild ride. "They say punk is about nonconformity but let me tell you trying to align four punk rockers on the same page is a Herculean task," says Morton.
Despite the hurdles the band has managed to book a series of gigs around town and are about to tear Wellington up through their 'NEVER MIND THE SEX PISTOLS, HERE'S THE BOLLOCKS!' performance at the
Eat Drink Play festival
, this weekend. Many  have embraced the sheer audacity of the transformation applauding him for daring to defy societal expectations.
When asked about his plans for the future Mortons eyes gleamed with determination. "We're going all out mate! Who knows what the future holds," he pondered before reassuring everyone that his love for numbers and accounting would continue to play an integral role in his life even amidst the punk chaos.
As the entrepreneurial spirit of Wellington's rock scene continues to evolve Rab Mortons journey serves as a reminder that punk can be found in the unlikeliest of places. So next time you're stuck in a spreadsheet nightmare just remember that even the most reserved accountants may possess an insatiable desire to break free grab a microphone and become the punk icon they were always destined to be.