Wellington Live's Top 10 Dog friendly Cafes.
Champagneria
Starting off the list we've got Champagneria, located on Courtenay place.
This venue might become your pup's new go-to spot, with puppuccinos and Dog platters served with Chardognays, for just $8. Their dedicated dog menu and balcony side blankets are making winter walkies look like an offer we can't hound!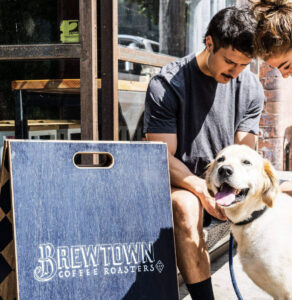 Brewtown
Next up is Brewtown in Upper Hutt; This spot isn't just dog-friendly, it's kid friendly too.
With adventure park activities and water bowls served up by the staff, Brewtown is the ultimate spot for both your pup and your little ones to bask in the sun. And if your four-legged companion plays their cards right, they might just end up with a treat that even you'd envy.
Beach Babylon
At Beach Babylon even the dogs have a say in what's for breakfast, thanks to another impressive dog menu. It turns out our four-legged pals are quite the table talkers.
We recommend booking ahead of time for this spot; Beach Babylon is the go-to hangout for locals, and seats vanish quicker than a buried bone.
Sprig & Fern
Sprig & Fern wear their dog-friendly badge with pride, offering both indoor and outdoor spaces for your well-behaved, leashed companions.
Whether you're at Sprig & Fern Tavern in Berhampore or Thorndon, good times and wagging tails are always on tap!
People's Cafe
At Peoples, expect to pay your coffee bill with a currency of belly rubs. The staff's reputation for petting is as strong as their espresso!

Drop by either the Lukes Lane or Constable Street locations for a central city treat that'll have your pup's tail wagging!



Gear Street Union
Gear Street Union in Petone believes that nothing beats a pint with your pooch!
This spot has become the ultimate pup-friendly meeting hub, and they're not shy about showing it off on their Instagram. Honestly, who could blame them? They're not just serving up drinks; they've got free water on tap for your four-legged friends too.
BambuchiSan
Tucked away in Hataitai, is BambuchiSan, an asian inspired eatery named after the owner's late dog, Smuchi Bambuchi.
At BambuchiSan, you can bring your furry friend inside for a cosy experience, or let them relax on the garden patio. While they won't shake up a pup-tini, they're pros at serving water, treats, and belly rubs to keep tails wagging!
The Lockup
The Lockup is A hidden treasure for dog enthusiasts, nestled off the main coastal road in Paraparaumu.
It's the ideal pit stop for your leisurely Sunday walk, and they're all about puppuccinos. Just a heads-up, though: if your dog wants extra cream, they've got to put in a special request!
The Borough
Tawa's a pup paradise with 9 pet-friendly places within a 20-mile radius. Your pup might just suffer from decision paralysis!
But fear not, our top pick is The Borough, nestled right on Main Road. Their beautiful outdoor seating area is perfect for a pup-approved hangout.
Parrotdog
Finishing off our list is Parrotdog on Kingsford Smith Street in Lyall Bay, where leashed doggos are invited to join the party.
While a bit of canine karaoke might not be on the menu, they do serve up water bowls and treats for your pup (and a special shoutout to the proceeds heading to HUHA, the good folks).