As the warm embrace of summer approaches, Wellington Live is thrilled to present a curated selection of picnic spots that cater to your every whim. Whether you're a doting mom in search of family-friendly adventures or a hopeless romantic yearning for a tranquil escape, our versatile list promises to be your seasonal guide to picnicking perfection. 
Percy Reserve Waterfall
Percy Reserve Waterfall was recommended by one of our followers as a must see picnic destination. Located in lower Hutt, just five minutes from Petone, this spot offers just a short walk into full immersion of nature. Percy Falls is the perfect family picnic spot, your kids are guaranteed to love it.
Plimmerton beach
John Zhang Plimmerton beach is a bit more of a drive from the CBD (25 minutes), but is an absolute sun trap in the afternoon. This spot is both romantic and family friendly, with fish and chip shops and cafes closely surrounding, perfect for date night. If you catch the beach on a good day you'll be able to see views of the South Island.
Botanical gardens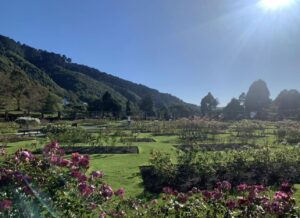 Botanical gardens might sound cliche, but it's a popular picnic spot for a reason. Close to the city but fully immersed in nature, this is a great spot for a busy city goer. Their 'Picnic Cafe & Venue', overlooking the Lady Norwood Rose Garden, is a lovely cafe, and great if you're low on snacks.
The Wellington Zoo
How could we forget the Wellington Zoo! If you have a special occasion coming up or some extra picnic money, the Wellington zoo is the perfect spot! You can't beat a weekend lunch date with Bruce and Raddo, the resident Kangaroos.
Makara Beach
Makara Beach, located just 30 minutes from the city, is a breathtaking expanse of untouched wilderness. It is home to a diverse array of native birds and wildlife, offering endless opportunities for capturing stunning photos. The area features a picturesque walkway that provides 360-degree views of the surrounding landscape. However, we advise you to check wind conditions when planning your picnic at Makara, it can be quite brutal.
Waitangi Park
Waitangi Park is another great picnic option, and so close to the CBD. The energy down at Waitangi Park on a summers day is infectious, its perfect for kids and romantics alike. With a supermarket around the corner, and a beach nearby, your summer night romance practically plans itself.