Dairies have become a quintessential part of New Zealand's cultural identity, serving as a staple of the Kiwi lifestyle. This sentiment is especially evident in the vibrant neighbourhood of Mt Victoria in Wellington, where a cluster of five locally-owned dairies exist within 750m of each other. 
The importance of these dairies in the Mt Vic community cannot be overstated, they not only provide convenience and accessibility for everyday shopping needs but contribute to the social and cultural fabric of the area. Step into any of these local corner stores and you'll be greeted with the warm smile of a neighbour – a reminder of the community that makes Mt Vic so special.
In an effort to highlight the true value of these dairies, I had the opportunity to chat with some of the proud owners serving our community for the last few decades. 
VJ Patel, who owns Navrang Dairy on Majoribanks St, tells WellingtonLive that he is proud to be serving such an honest and appreciative community, "that's the good thing about Mt Victoria. Nice people, good culture, and friendly customers. I'm very happy." He started running the shop in 1994, after moving to New Zealand with his wife, "I migrated from India and was working as a T.V technician in a workshop for a while, but I wanted change. […] So, I bought a dairy as a way to make money and started living here with my family," he said.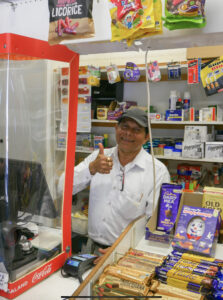 VJ Patel, the proud owner of Navrang Dairy on Majoribanks st.  Photo / Bella Foster
Daksha Patel, of Mitesh Food Market, feels similarly about the Mt Vic community. As a proud owner of the local Pirie St dairy, Daksha Patel knows a thing or two about the close-knit community that thrives in this vibrant neighbourhood. "The community around here is very great. I see families grow up here and their kids grow up here too," she shared in an interview with WellingtonLive. Adding, "It's nice to watch neighbours and families run into each other when visiting our shop."
With 29 years of experience owning and operating Mitesh Food Market, Daksha Patel has seen generations of families grow up in the Mt Victoria area. "It's been a very fulfilling journey," she reflected. "When I fell pregnant, my husband and I thought this shop would be a good way for our family to earn a living while watching the children." For Daksha's daughter, the dairy was more than just a family business; it was a place of childhood memories. "We could come and grab whatever sweets we wanted as kids," she reminisced. "It wasn't good on the teeth though," they both laughed.
Another proud owner in Mt Victoria is the Hawker St dairy, who would prefer to have their name kept anonymous. Having owned the store for 30 years, they share a similar sentiment with their peers on the safety and close-knit nature of the community. "Mt Vic is a good community, I never have any problems and always feel safe and appreciated," they shared. This sense of safety and security is crucial in light of the history of dairy-related violence in New Zealand. Despite the challenges that small business owners face, the dairies in this neighbourhood have thrived thanks to the support of loyal customers and the camaraderie of fellow shop owners.
Hawker St Dairy is a kiwi staple loved by many of the Mt Vic residents.  Photo / Bella Foster.
The relationship between these dairy owners and their customers goes beyond just business – it's a true friendship that has helped build a sense of community right here in Mt Vic. "The dairy owners in Mt Vic are more than just business owners; they're like family to us. Their warm smiles, friendly conversations, and unwavering commitment to serving our community have made them an essential part of our daily lives. We're so grateful for everything they do, and can't imagine our neighbourhood without them," a member of the community told Wellington Live. Another Mt Vic resident told us "I'm super loyal to Navrang Dairy, VJ is always super friendly. In the two years we've lived in Mt Vic he's become our go-to guy, I even received chocolate from him on my birthday."
The owners of the dairies in Mt Victoria not only have a deep love for their community but have also fostered a strong sense of camaraderie among themselves. They share common cultural roots, community background and language, which has helped to strengthen their bond as friends. One owner shared, "there's no competition. What's the point? People have their own money and will spend it where they like." This sentiment is echoed by other dairy owners in the area, who all seem to value their relationships with each other over any sense of rivalry or competition, "we all want the best for each," said another owner. It's clear that they all prioritise building a supportive community over individual success.
The familiar sights of a New Zealand corner store.  Photo / Bella Foster
As the sun sets on another day in Wellington, the dairies continue to hum with the sounds of friendly conversation, the rustling of paper bags, and the tinkling of change. The dairies of Mt Victoria may be small, but they are mighty. Serving as a reminder that community and connection are the bedrock of a thriving society. As we navigate the challenges of the 21st century, we can draw inspiration from these local businesses and the people who keep them running. In the end, it is the strength of our communities that will see us through.
—